Or not. Some things will be ultra-familiar, while others may make you scratch your head in confusion.
Let's go! So really, what DO French people eat at Christmas?
It will come as no surprise that the French are super traditional when it comes to Christmas – in fact, a survey showed that given the choice, 9 out of 10 French would prefer a "traditional" French Christmas dinner to some thing more innovative. Why am I not surprised?
Whatever is served (and we'll get to that in a minute), what doesn't change is the purpose of the main Christmas meal: getting together with family, whether the nuclear family in the city or the extended family further afield. It's often a toss-up as to whose family will prepare the meal, and at whose home it will be eaten.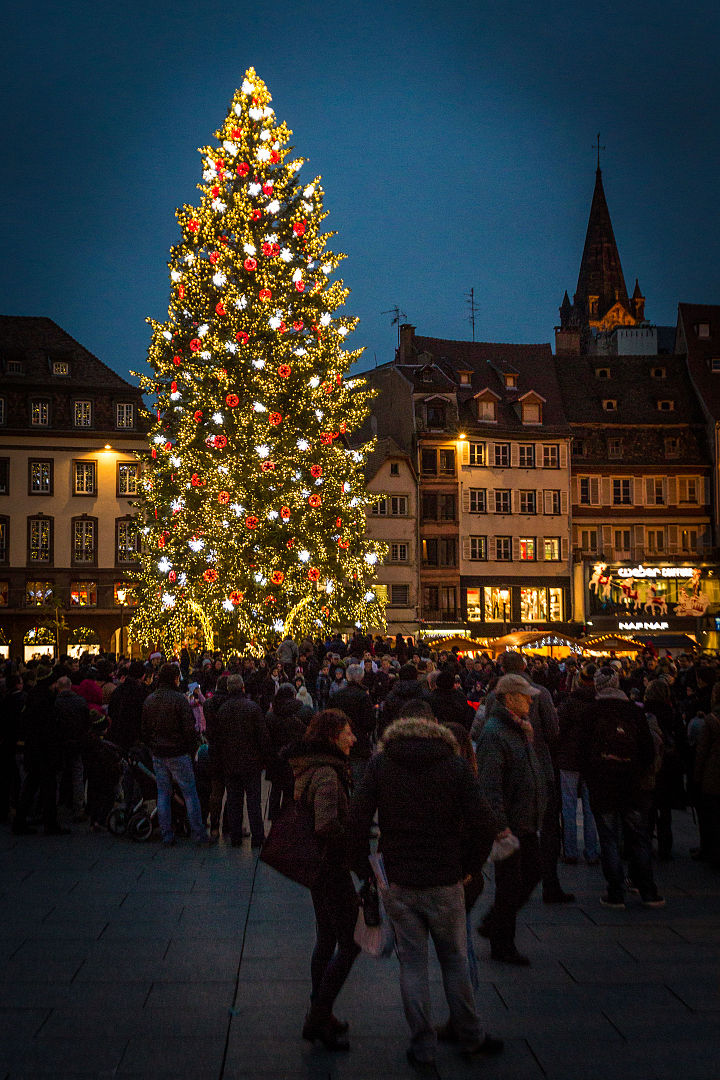 Christmas tree in Strasbourg by Claude Truong-Ngoc / Wikimedia Commons CC BY-SA 3.0, Lien
French Christmas food traditions
As an aside, while Christmas is the family meal, New Year's is reserved for friends. (Of course all these are generalizations and you will find plenty of exceptions, but not that many.)
The main French Christmas meal will either take place at supper on December 24th or at lunch on Christmas Day. There's no set time for it, although if it's on the 24th, it will usually end by midnight so that families can attend Midnight Mass. Often, this is the only time they'll see the inside of a church all year… In times past, the main meal often came after Midnight Mass and I hear that some people maintain that tradition, eating from two in the morning until sunrise. I personally don't know anyone who eats their meal right after mass…
Most people will prepare a full menu for Christmas, and it will stick to tradition. If you're on the more innovative side, try a new wine or an unusual wine pairing because if you suggest something that's not usual, you may get pushback.
The classical traditional French Christmas meal
Of course there are plenty of factors that determine what a French family will eat for Christmas. One of those is budget, with expensive dishes unaffordable for many. Another is location, because there are plenty of regional specialties that may be radically different depending on where you are in France. And finally, there's your own origin. Christmas may be a Christian holiday, but it is celebrated widely, and beyond Christians. What you eat, however, may change depending on whether you are from the Mediterranean or the Middle East so here, we'll focus on the MAIN traditional Christmas meal and a few regional specialties, but we'll leave the wider variations for another time.
Again, according to surveys, the traditional French food list for Christmas includes:
Foie gras
Seafood and salmon
A fowl, often a turkey but not always

A bûche de Noël
Let's look at each in detail.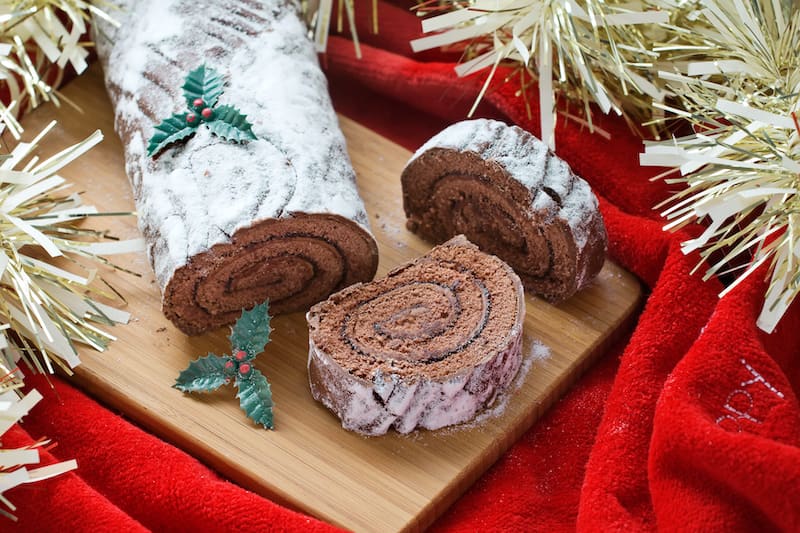 A bûche de Noël
Foie gras
While it is deeply ingrained in French culture, awareness of the controversies surrounding foie gras is growing, even in France, and people are taking note. Several cities have banned foie gras from their official menus, and more will undoubtedly do so. Foie gras producers are exploring humane methods of producing this delicacy, and everyday French are rethinking their consumption.
But the numbers continue to speak for themselves: 70% of the world's foie gras is produced in France, and 93% of French eat foie gras.
However, when you combine the ethical factors with price – good foie gras can be extremely expensive, people may think twice about how often they eat it. For many, it is reserved for the holidays, a delicacy to be savoured once or twice a year, but not regularly anymore.
Either way, foie gras remains the most beloved traditional French Christmas food, with producers sending out their order lists months in advance.
It is usually eaten on thinly sliced toasted bread, accompanied by fig jam and a glass of sweet Sauternes.
Foie gras from the Belooga Restaurant, in Villefranche-sur-Saône
A fowl
Another immutable French traditional Christmas food is the ever-present stuffed fowl.
In times past, the preferred bird was a goose, if you could afford it, or even a pig, if you could not (yes, I know it's not a fowl but in some quarters, it was the traditional Christmas meat dish). Confit of duck was also a possibility.
The "discovery" of America by Europeans created an exchange of products in both directions, and the turkey seems to have been part of that exchange. From its arrival in the boat holds of the Conquistadors during the 16th century to the Christmas tables of Europe appears to have been a relatively short leap.
These days, however, turkey rules, not only from tradition but under the influence of the United States. It's often stuffed with chestnuts, and accompanied by a strong white wine.
Bresse chicken, the only French chicken under protected designation of origin. This is exactly what I have for Christmas each year: it's from my own region, the Ain
Seafood and salmon
Highest on the list of Christmas seafoods are oysters, once only available along the coast because of cost. Today, you can eat them easily at other times of year, but Christmas is rush hour on oyster farms. They are eaten simply, with a squirt of lemon or a bit of shallot vinaigrette.
Those who can afford it will include lobster and other seafood, and a quick trip to your fishmonger's or to the supermarket will unveil piles of fresh seafood you'd never see any other time of the year.
If you've never seen the sight of a platter of seafood arrive at a Christmas table, you haven't experienced the French Christmas tradition at its fullest.
Smoked salmon, although consumed throughout the year, is popular at Christmas, either with the seafood or instead of it. Again, it wasn't always so – the custom dates back to the 1980s or so, when salmon farming became common and prices came down.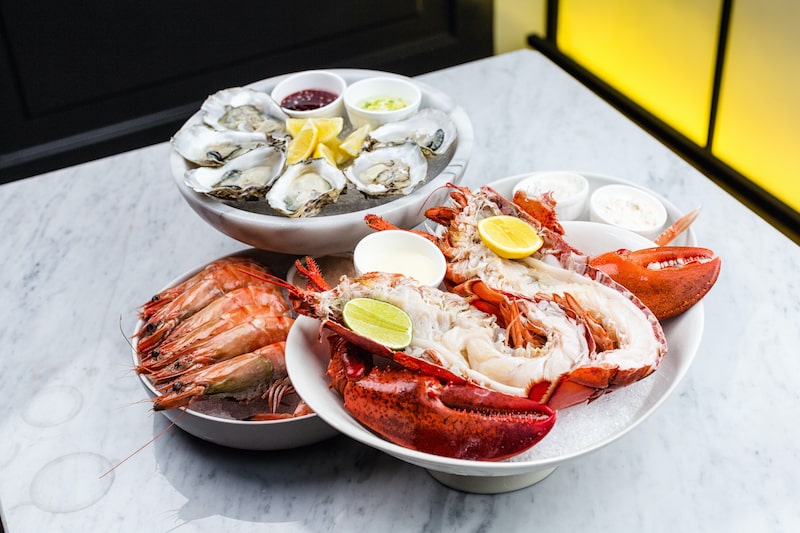 Seafoods you'll have for Christmas
La bûche de Noël
The quintessential French Christmas dessert is the bûche de Noël, or the Christmas or Yule Log, a rolled cake with filling and thick icing. In ancient times, legend has it that families would place a huge log in the chimney and let it burn until the end of the meal. With the arrival of Christianity, the log would be set to burn until until 6 January. Should it go out before, you could expect tragedy in the coming year. The log remains, along with other superstitions linked to fire, an important symbol of ushering in the new year. But the eventual disappearance of huge chimneys eroded this tradition.
Then, during the 19th century, pastry chefs created a patisserie log, a cake that looked like a log but tasted like… cake. Several chefs have laid claim to inventing the cake, but no one knows when exactly it was created, or whether it was invented in Paris, Lyon, or even Monaco.
The French Christmas cake come in all sizes, from a small individual pastry to massive constructions designed to feed the entire household. They can be standard cakes or ice cream cakes (try putting that in your freezer without squishing it!), and these days, you'll find them in a variety of flavours: chocolate, praline, coffee, vanilla, strawberry, and probably many more that my humble village patisserie doesn't stock. One thing is certain: few self-respecting citizens will see Christmas through without their bûche.
Chocolate!
Somehow this has made its way onto the French Christmas menu, either as small individual chocolates from the best chocolatiers, or as truffles – some families guard their truffle recipe jealously. This was a relative latecomer, however, and only began appearing around the 16th century – with good reason, since chocolate only arrived in France in 1615. Anne of Austria (who was in fact the daughter of the king of Spain) brought chocolate from her native country and gave it as a gift to her betrothed, Louis XIII. It would take until Louis XIV and Versailles for chocolate to begin gaining wider appeal…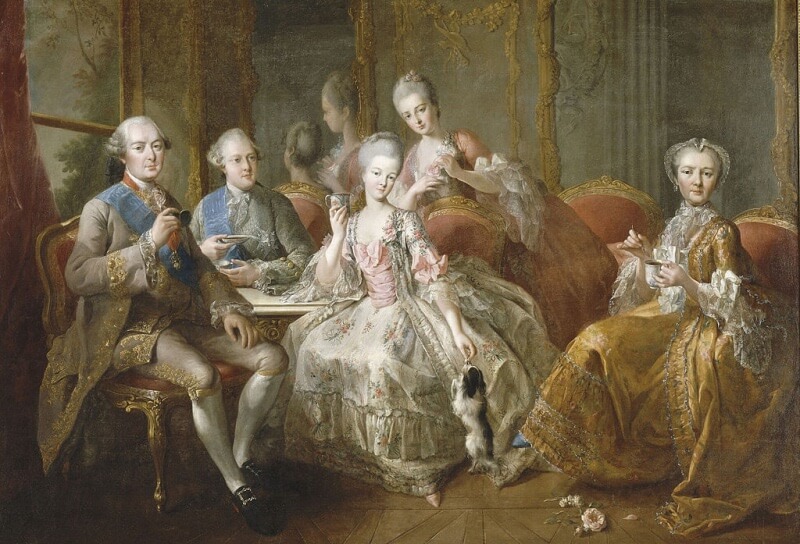 The arrival of chocolate at court. La tasse de chocolat by Jean-Baptiste Charpentier (1768)
With plenty of adjustments and exceptions, of course, but you can expect a traditional French Christmas dinner to look something like this:
apéritif, usually champagne (and for children, a Champomy!) – and those who can afford it will add caviar to their tables
entrées (remember, in France an entrée is the starter, not the main dish): this is where you have the foie gras and the seafood and smoked salmon and the oysters and the…

a "trou normand", a Norman pause: this is a sherbet, of varying flavours, liberally dosed with alcohol; it is meant to clear the palate but is just an excuse for more drinking

the main dish, a fowl – often a turkey, but occasionally a capon, guinea fowl or even a top-flight chicken
a cheese platter, although this is optional and not everyone feels able to eat cheese on top of everything else
dessert: the bûche de Noël
coffee and chocolates or truffles
and this being France, there will be wine throughout!
Typical French Christmas menu served by restaurants
Regional Christmas foods in France
France is a hugely diverse country – this diversity is one of the main reasons it has been placed on UNESCO's intangible heritage list – so it will naturally have some regional dishes included at Christmas, although not as many as you may think.
Here are a few samples to give you an idea of what you might be offered as part of your Christmas meal.
Alsace: known for its foie gras and gingerbread cake, with honey and spices
Burgundy: escargots, of course, along with Comté cheese from Franche-Comté
Corsica: charcuterie, cheese and chestnuts (including chestnut polenta)
Orléans and Champagne-Ardennes: boudin blanc, a white pork sausage
the North: areas close to Belgium may well enjoy moules-frites (steamed mussels and french fries) for Christmas
Provence: a tradition of 13 desserts (the 12 apostles plus Jesus) would include all sorts of local sweets, from nougats to candied fruit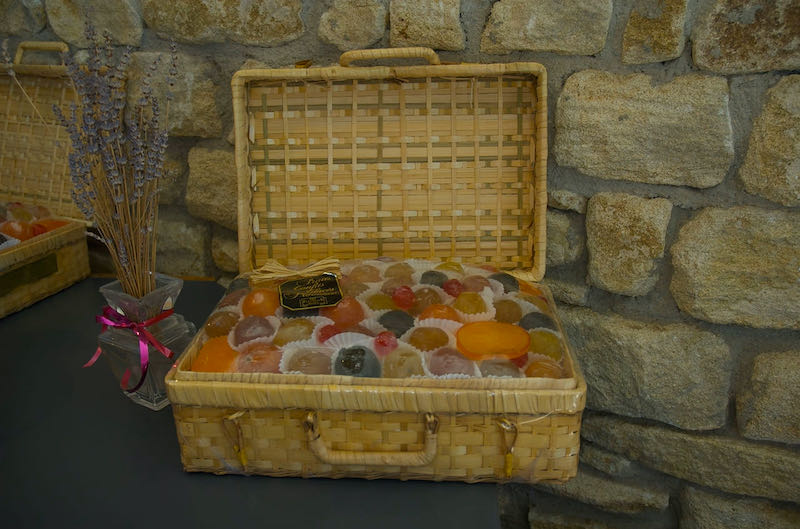 Candied fruit from Provence
A history of France's Christmas dinner
Today, when we sit down for our Christmas meal, we tend to eat many of the same things, our habits shaped by tradition, yes, but also by the food industry which has made certain luxury products more widely available.
As we unfold that napkin, we know we are about to seriously over-indulge. Some of us may not have eaten since the day before, while others are already planning the diet they'll soon be starting.
But this overindulgence hasn't always been the norm. Nor has the single Christmas meal. Let's go back a little in history…
This meal didn't start off being about Christmas, but about the winter solstice, which occurs on 21 December. Back in Roman times, the population celebrated Saturnalia during the third week of December or so. It was held in honour of the god Saturn. Social differences melted away for a few days, slaves were temporarily freed, and mistletoe, vines or holly were used to decorate houses. And people ate.
Slowly, and because they took place around the same time, the Christian celebration of the birth of Jesus slowly melded into the pagan celebrations and they became one. Christmas may be Christian but it is truly celebrated worldwide.
Traditionally, a "repas maigre" or lean meal, was eaten in the lead-up to Midnight Mass as an act of penance. By lean we mean meatless, although fish was permitted but it was a light meal, a soup with bread, perhaps. Our oysters and salmon may well be holdovers from those days.
The Midnight Mass traditionally being a lengthy event, the main celebration came after the mass, so in the small hours of 25 December a "repas gras" or fat meal, one involving meat, was eaten.
This second meal came to be known as the Réveillon (it still is today). In one theory, it comes from the word "réveil", or awakening, as in staying awake until the festivities ended in the morning. In another, the "veiller" means to stay up, and the second meal, since it meant staying up a second time, was a "ré-veillon".
The French Christmas meal became more sophisticated in the late 19th century, during the Belle Epoque, as bread prices fell, allowing more discretionary income to be spent on meat. Still, it would take the 20th century for Christmas recipes to begin appearing in cookbooks. In post-World War I rural cookbooks, pork is at the heart of the Christmas meal and while fowl is also highlighted, it's still a dish for the wealthy.
After World War II, however, Christmas recipes begin to flood the market, accelerating as the decades fly by and becoming increasingly complex – and luxurious. Under the influence of the USA, turkey displaces pork as the favourite Christmas meat.
Today's French Christmas eve dinner must, above all, be abundant: this isn't the time to skimp. It's expensive, it's indulgent, but it's that one time of year when efforts are made not only from the pocketbook, but from the heart, a time of generosity and sharing and reaching out to those less fortunate.
A few French Christmas facts and questions
What is the French word for Christmas?
Noël.
How do you say Merry Christmas in French?
Joyeux Noël – pronounced jwah-YEArn (as in yearn, but without the R and N)
What is Christmas eve in French?
Le Réveillon – pronounced ray-vay-YOH – de Noël; if you just use the word "Réveillon", you'll be referring to New Year's Eve, not Christmas Eve
Who celebrates Christmas in France?
Most people do, even non-Christians. More than a religious celebration, Christmas tends to be a time for families to gather, and they do so, whatever their background (of course, there are plenty of exceptions, both among Christians and non-Christians)
You might also like these stories!
Shop this post on Amazon
Pin these and save for later!
FAQs
A Traditional French Christmas Menu
A Traditional French Christmas Menu As a French food writer and passionate French home cook, one of the questions I get asked the most is what does a typical French meal look like? And since the Holidays are upon us, I wanted to share with you today the rituals and courses of a traditional French Christmas menu. A few facts about the French Christmas feast In France, the main celebratory Christmas meal is enjoyed on Christmas Eve (December 24th) – not Christmas Day. It is in fact called "Le Réveillon" – which translates to the idea of staying up all night for the arrival of the "Père Noël" (Santa Claus). The Christmas Eve meal usually begins around 8pm and stretches until well after midnight. A French Christmas really is about the food – and less about decorations and gifts. Of course, French people do buy and decorate a Christmas tree, add a few festive garlands or wreaths inside their house and exchange gifts at midnight. But they don't really put as much effort into it as you often see in North America. Instead, the French will go all-out for the food. They will start to think and prepare weeks ahead about which table set up they will use and what they will serve on the menu. And for the latter, the French  aren't afraid to splurge at Christmas to buy good-quality products (ie. foie gras, smoked salmon, cheeses, Champagne, etc.) to feed their guests and create great memories around the table.  A typical French Christmas is homecooked, but not always or not entirely. French people do love to cook in general and will happily spend a whole day in the kitchen to prepare a Christmas feast for their friends and family. But purchasing pre-made or frozen starters or small bites is completely acceptable. Picard, a frozen food chain, is highly popular in France and many people turn to them for a little help when hosting. 1st course: "L'Apéro" – Small bites and bubbles If you are familiar with French food culture, you likely already know the importance of the French "Apéro" (short for apéritif). This pre-dinner tradition of small bites and drinks is a cherished moment of the day, when people first gather – and Christmas dinner is no exception to this tradition. On Christmas Eve, Champagne is often served to "cheers" ("Santé!" in French) and kick start the festivities. Kir Royale (crème de cassis topped with champagne) or Kir Breton in my home region of Brittany (crème de cassis topped with cider) are also very popular. Kids are often served apple juice or "Champomy" – a popular French brand of non-alcoholic champagne made for kids. Typical small bites served during the Apéro include smoked salmon served on blinis (fun fact: the French love blinis!), Prunes wrapped in bacon, Gougères (baked cheese puffs), Gruyère Cheese Twists and Rillettes of all kinds (pork, salmon or sardines). Vérrines, which are layered dips served in small thick-wall glasses) are also mainstays. So are canapés, consisting of small slices of bread or puff pastry topped with some savory food (charcuteries, cheeses, etc). French Apéro bites are very small (one-bite) and meant to whet your appetite. 2nd course: Starters After the Apéro, which is often enjoyed in the living room, guests relocate to the dining room and sit around the table to officially start their meal. Without any doubt, Foie gras is by far the most served starter over Christmas. It often comes to the table in slices and guests enjoy it over toasts of baguette or Pain d'épices (Classic French Spiced Bread). A good French etiquette to know is that you shouldn't spread the foie gras, but instead place it gently on the toast. Foie gras is sometimes accompanied by Winter fruit preserves (such as fig or persimmon) but most people like to eat it as is. Escargots with Persillade Butter, Pâté en Croûte and Chestnut Soup are also staples. For…
What do the French Eat at Christmas? – Oliver's France
What do the French Eat at Christmas? (See holiday recipe below!) The whole world instinctively understands that French cuisine is synonymous with delicious and elegant food. At holiday time, all the stops are pulled and holiday food rises to a new level. Foie Gras Usually, Christmas Eve is a more important time for gathering and eating than Christmas Day itself. This is called the réveillon de Noël. The Réveillon (without Noël) usually refers to New Year's Eve. People send holiday cards to wish friends and family a Happy New Year, not to wish a Merry Christmas. Foie gras There are many varieties and quality levels of duck and goose liver paté. It is a specialty served on toast or baguettes as an appetizer during a Christmas or holiday meal. It can also sometimes be served with spice bread and fig jelly. Bûche de Noël Ever heard of a Yule Log? That's what a Bûche de Noël is, but comes in many varieties, and has been a holiday tradition since the 19th century. The standard is chocolate, but you won't be surprised to find them with orange, raspberry, chestnut, praline, or any combination of those. Oysters Though oysters can be eaten all year, most oysters are eaten at the Christmas holiday season. Specialties such as caviar and escargot served as apéritif or appetizer. Stuffed goose or turkey or roasted leg of lamb. Often the stuffing is not what you'd expect. It may combine liver, bread, and a dried fruit such as prunes or apricots. Capon This is a special rooster, and the most famous are from the region of Bresse. Chocolate and Truffles You may think truffles are an odd-looking type of mushroom. They are, but another treat called a truffle is made of chocolate and especially enjoyed around Christmas (Recipe below.) Go into any French grocery store right before the holidays and you'll see boxes of chocolates and truffles to enjoy, to offer, and to tuck away for later. On street corners, don't be surprised to see chestnuts roasting on a … firepan in a shopping cart! You'll smell them down the street. They're served in a paper cone like ice cream. Or you may find chestnuts candied, for a special sweet treat, Marrons Glacés. (A marron is a chestnut.) Chocolate Truffles Truffle Recipe (with metric equivalents) 11 ounces/300 g dark chocolate 3.5 ounces/ 100 g butter 2 egg yolks 1 cup/ 125 g powdered sugar 1 2/3 cup/ 4 cl heavy cream 1 Tablespoon milk Cocoa Break the chocolate into a pan. Add the milk and melt together at low heat, mixing from time to time with a wooden spoon until it's creamy. (You can use a double boiler if you want.) Gradually add butter in bits, egg yolks, and cream. Mix well. Add the powdered sugar while stirring. Put this mixture in the fridge for 2 hours. When the mixture is firm, form it into small balls the size of a walnut. Roll these in the cocoa and return them to the fridge until ready to serve. Makes around 20 truffles. For more holiday spirit, see the post, Christmas in Paris. It is traditional to display the nativity until February 2, which marks the crêpe holiday, the Chandeleur. According to the legend, if you flip a crêpe and it comes down correctly, you'll have good luck all year. Another version says if you can flip a crêpe while holding a coin, you'll have prosperity all year! (For more interesting facts about regional foods in France, as well as some recipes, download the free booklet on this site, Bon Appétit: Eating and Drinking your Way Across France.) Joyeuses Fêtes (Happy Holidays) et Bon Appetit!
What do French people eat at Christmas? Brace for a few …
What do French people eat at Christmas? Brace for a few surprises. Or not. Some things will be ultra-familiar, while others may make you scratch your head in confusion.Let's go! So really, what DO French people eat at Christmas? It will come as no surprise that the French are super traditional when it comes to Christmas – in fact, a survey showed that given the choice, 9 out of 10 French would prefer a "traditional" French Christmas dinner to some thing more innovative. Why am I not surprised?Whatever is served (and we'll get to that in a minute), what doesn't change is the purpose of the main Christmas meal: getting together with family, whether the nuclear family in the city or the extended family further afield. It's often a toss-up as to whose family will prepare the meal, and at whose home it will be eaten.  Christmas tree in Strasbourg by Claude Truong-Ngoc / Wikimedia Commons CC BY-SA 3.0, Lien French Christmas food traditions As an aside, while Christmas is the family meal, New Year's is reserved for friends. (Of course all these are generalizations and you will find plenty of exceptions, but not that many.)The main French Christmas meal will either take place at supper on December 24th or at lunch on Christmas Day. There's no set time for it, although if it's on the 24th, it will usually end by midnight so that families can attend Midnight Mass. Often, this is the only time they'll see the inside of a church all year… In times past, the main meal often came after Midnight Mass and I hear that some people maintain that tradition, eating from two in the morning until sunrise. I personally don't know anyone who eats their meal right after mass…Most people will prepare a full menu for Christmas, and it will stick to tradition. If you're on the more innovative side, try a new wine or an unusual wine pairing because if you suggest something that's not usual, you may get pushback. The classical traditional French Christmas meal Of course there are plenty of factors that determine what a French family will eat for Christmas. One of those is budget, with expensive dishes unaffordable for many. Another is location, because there are plenty of regional specialties that may be radically different depending on where you are in France. And finally, there's your own origin. Christmas may be a Christian holiday, but it is celebrated widely, and beyond Christians. What you eat, however, may change depending on whether you are from the Mediterranean or the Middle East so here, we'll focus on the MAIN traditional Christmas meal and a few regional specialties, but we'll leave the wider variations for another time.Again, according to surveys, the traditional French food list for Christmas includes:Foie grasSeafood and salmonA fowl, often a turkey but not alwaysA bûche de NoëlLet's look at each in detail. A bûche de Noël Foie gras While it is deeply ingrained in French culture, awareness of the controversies surrounding foie gras is growing, even in France, and people are taking note. Several cities have banned foie gras from their official menus, and more will undoubtedly do so. Foie gras producers are exploring humane methods of producing this delicacy, and everyday French are rethinking their consumption.But the numbers continue to speak for themselves: 70% of the world's foie gras is produced in France, and 93% of French eat foie gras.However, when you combine the ethical factors with price – good foie gras can be extremely expensive, people may think twice about how often they eat it. For many, it is reserved for the holidays, a delicacy to be savoured once or twice a year, but not regularly anymore.Either way, foie gras remains the most beloved traditional…
Truths and Myths Of The French Christmas Meal
Truths and Myths Of The French Christmas Meal 🎄 🥂With so many culinary delights in France, it's hard to figure out what kind of food French people really eat around Christmas. Oysters and Foie-Gras are a sure thing, but fresh truffles and caviar are still very much for the wealthiest. With so many traditions in the different regions of France, and so much food to choose from, it's true that the French tend to feast and splurge for their Christmas meal. However, not everything you read is true, and there are many exaggerations of what dishes you may actually find for Christmas at a regular French table. Let's start by studying the French Christmas food vocabulary. Typical Christmas Food French Vocabulary Le Réveillon de Noël – the French Christmas meal (not to be mistaken with "Le Réveillon du Nouvel-An – New Year's Eve French Meal name)Le dîner de Noël – the Christmas dinnerLe déjeuner de Noël – the Christmas lunchFaire un festin – to feastSe régaler – to have a culinary blastFaire la cuisine – to cookPréparer un repas fait maison – to cook an home-made mealL'apéritif – before meal drinks and finger foodL'entrée – the first course (appetizers)Le plat principal – the main courseLe fromage – cheese (I don't think that we have a special Christmas cheese in France)Les treize desserts – 13 desserts – a Christmas tradition from ProvenceLa Bûche de Noël – Christmas Yule log cakeMettre une belle table – to set up a pretty tableUn centre de table – a center piece decorationDes bougies – candlesPlier les serviettes – to fold napkinsDes canapés apéritif – appetizer toastsDu saumon fumé artisanal – small scale produced smoked salmonDes huîtres – oystersDu foie-gras (frais, poêlé ou en pâté)  – foie gras (fresh, pan-fried or served as a pâté)La volaille – fowlLe gibier – game meatUn rôti – a roastUne farce aux marrons – a chestnut stuffing – note: there is a confusion in French between "un marron" – a horse chestnut which is not edible, and "une châtaigne" which is a sweet chestnut as is edible. We often use "marron" when really, it is "châtaigne" that are being used (for food).Un jambon fumé au feu de bois – firewood smoked hamUn jus de viande – gravyDes bredele – typical Alsacien cookies baked at Christmas timeDes truffes au chocolat – chocolate trufflesDes marrons glacés – candied chestnutsDes marrons chauds – roasted chestnutsDu vin chaud – spiced wine A Pretty Table and a Fancy Home Meal The thing you can expect for sure is that the French will make a big deal about their Christmas meal. The table will be set with lots of care, even for a family meal. We really like to set a pretty table in France, and this is a strong part of our French culture and tradition. The Christmas dishes will have been carefully planned, and chances are that the cook will fancy trying something daring, and push his/her culinary abilities. The presentation will be also refined. The idea is not to show-off (well, maybe just a little…) but to please your guests and family, show them your love and care by treating them to an excellent and beautiful meal. Oysters, Scallops and Smoked Salmon For Christmas in France Smoked salmon is a popular dish around Christmas, and it's price is really reasonable. To bring it up a notch, we may serve it over "blinis", a buckwheat pancake readily available in a small size in all French supermarkets. Add a bit of heavy cream, a thin slice of lemon and a touch of fresh "ciboulette" (chive) or "annette" (aneth) and you have a pretty, tasty, and super easy to make "amuse-gueule" (literally "amuse your mouth" – savory bite). France having a lot of coastline, oysters are easy to find,…
Traditional French Christmas Menu – My Parisian Kitchen
Traditional French Christmas Menu – My Parisian Kitchen Here is the ultimate guide of dishes and drinks to celebrate Christmas like in France. You'll see that traditions continues and discover what a classic "repas de Noël" feast looks like. Although each family or each region has its own preferences or customs, French classic Christmas dinner is a traditional affair and really means festive dishes with ingredients you won't eat except on special occasions, or find easily, the rest of the year. Thanksgiving approaching, wouldn't it be a wonderful idea to get inspired by this and give a French twist to your Thanksgiving dinner? Foie Gras Terrine Foie gras, which is often homemade, is the one that immediately comes to mind and really represents Christmas in France. Foie gras is eaten on different kinds of bread toasts, brioche bread or gingerbread (the French way, with honey and spices), sometimes spread fig or onion confit. Many nice presentations can be offered with foie gras, such as in individual small glasses (I propose with pear and gingerbread). Seafood Platter and mainly Chilled Oyster Oysters are served on a large platter often covered with a bed of ice to keep Oysters chilled. They are served with lemon wedges to squeeze or the mignonette sauce made with red wine vinegar, chopped shallots, and black pepper. In my family-in-law from Brittany, they think it's just better with freshly ground pepper. You can serve aside shrimps and mayonnaise for those who don't eat shells. Smoked salmon Even French kids love to eat smoked salmon, on blinis or thin white sandwich bread slices. An essential for Christmas that is now eaten all year long and used as an ingredient for many fancy recipes. Gravlax-style salmon is prepared in many French houses. As for me, I just love to serve smoked salmon for appetizer or starter: as what we call a mise en bouche bites for l'apéro (see these puff pastry rolls), toasts with a lemony or yellow mustard sauce, rillettes or mousse. Scallops The French absolutely love scallops as they are very delicate and luxurious. They like to present scallops in their shell or choose to briefly fry them to dress with a sauce. Among the favorite preparations are orange cream sauce, braised endives with honey. Scallop tartar is getting more and more popular. Capon or Turkey with chestnut stuffing This is the most popular and classic Christmas dish. Capon or Turkey is roasted in the oven with a generous chestnut stuffing. Sides are classic: chestnut again, green beans wrapped with bacon, truffle mashed potatoes… I add winter vegetables to my roasted capon recipe. Guinea flow can also be an option as portions are smaller. Wild Game Almost not eaten the rest of the year unless there's a hunter among relatives, wild game is often on Christmas tables may it be venison, wild boar, or pheasant. Often marinated in red wine or served with a sauce (wine or cranberries for example). Sophisticated Fish Preparations As Christmas is a Christian feast where fish as a sign of abstaining, the French like to have fish for Christmas but fancy species like monkfish, turbot, sole, bass… with sophisticated preparations such as morel monkfish blanquette with morels Cheese Platter A huge cheese platter with many different kinds of cheese is a must have, neatly arranged and served with various breads. Some cheeses also have festive presentations such as truffle camembert which is to die for! Bûche de Noël Yule Log Cake Bûche de Noël is definitely the one and only Christmas dessert. Traditionally shaped to represent the real wood log placed in the fireplace on Christmas eve, bûche is often made of garnished swiss roll topped with buttercream or ganache and decorated with tiny figurines. Entremets or ice cream logs are getting more and more popular among pastry addicts and chocolate or chestnut are no longer the only beloved flavors. I tell you here where this tradition comes from. Exotic and candied fruits Although it's common to find exotic fruits all year long nowadays, It's been a…
What do the French eat at Christmas | Bonjour & Bienvenue …
What do the French eat at Christmas | Bonjour & Bienvenue, The French HubThe Christmas meal is serious business. The French take their Christmas meal very seriously. French families rarely go out to a restaurant for their Christmas meal, they eat at home. The French tend to go all out and splurge for Christmas when it comes to food, and the meal is almost as important as the gifts themselves. Families will spend what needs to be spent to ensure that they enjoy a meal of the finest quality, and the meal is sure to feature an abundance of delicious dishes that have been planned long in advance. Every family has of course their own habits and ways to celebrate. Below is a list of the most traditional and thought-after dishes that you would very likely find yourself having if you happened to be at a French table during Christmas. The main festive meal for the French is on Christmas Eve. The traditional meal is a very substantial and long proceeding – which lasts long past midnight into the early hours of December 25th. In other words don't expect to spend any less than 5 hours at the dinner table! It all starts with l'apéritif, usually Champagne for the occasion, accompanied by bite-size cocktail food, followed by several entrées of foie gras, oysters, and/or salmon. Main dishes will follow and include meats such as turkey, fowl or even beef. Next in line is the large and exquisite cheese platter, followed by desserts. All along you will be served a selection of wines carefully selected to accompany each dish, and the final touch: the digestif ! Food is accompanied by good conversation. The French love to debate about everything and you can expect lively conversations throughout the meal, in fact the longer the meal, the livelier the conversations! Some important tips. Here are a couple of tips to keep in mind if you plan on hosting a "French Christmas dinner" yourself: Rule number 1, choose products of the highest quality. Dishes may be simple and may not require extravagant cooking skills and techniques, but ingredients will have been selected for their finest quality. Don't go for the cheap options. Rule number 2, presentation is essential. Be it for setting the table, or presenting the dishes, a lot of work is put in to make sure that table and dishes look spectacular. Rule number 3, the meal follows a specific order: apéritif, entrées (starters), plat principal (main dish), cheese platter, desert, digestif. It would be considered a "faux pas" to not follow these steps! A little history… Traditionally, the Christmas meal was divided into two parts: A light meal was eaten before midnight mass. It was called "le repas maigre" – the 'light meal'. Depending on the regions it was customary to have a small soup with some bread or fish, but no meat. Midnight mass marked the end of the Advent period. The main meal was eaten after midnight mass, it was called "le repas gras"…
10 surprising facts about French Christmas dinners
10 surprising facts about French Christmas dinners Just what do the French eat for Xmas dinner? Is it similar to the British meal or is it a giant snail, stuffed with macarons and croissants? Let's find out together! 1. The French have their main Christmas dinner on the 24th. Timing is the most obvious difference between French and British festive dinners. In Britain we do our turkey eating on the 25th, often mid afternoon after the Queen's speech*. But in France le repas de Noël takes place on the evening before. That's right, on Christmas fudgin' Eve! "Silly old French", I first thought on hearing this mind-boggling information. "They've been having their Christmas dinner on the wrong day for years and no one's told them." But let's consider the matter more closely; is it the really the French who've got it wrong? Think about a typical family Christmas in the UK. If there are children around there's a huge possibility that you've all got out of bed at stupid o'clock to see what Santa has left. Then after Presentmaggedon has been cleaned up, it's straight onto preparing a huge and complicated dinner for a lot of people. And who's doing all this work? There's a strong chance that it's poor old put-upon mum who's burdened with the lion's share of the work. Compare that with the French system of dividing these events over two days. You get the dinner out of the way the night before, leaving the Christmas day to present opening, eating leftovers and scratching yourself while watching TV in yoga pants. And isn't that what Christmas is all about? 2. There will be foie gras. Foie gras is pretty much synonymous with Christmas in France so you can bet your dernier centime that it will make an appearance somewhere during the meal. The classic way of serving foie gras is with pain d'épices (similar to gingerbread but less sweet) and a side of chutney or confit d'oignons – this works well as an entrée or as a mini version for the apéritif. It could make an appearance in the plat principal in the form of a stuffing, pan-fried as an accompaniment or made into a sauce. It's even possible to be served foie gras as a dessert, as this recipe for macarons au foie gras proves. But foie gras is not simply an ingredient like any other. Its use outside France is controversial, indeed there is a ban on the production and sale of foie gras in many countries because of the force-feeding used on ducks and geese to produce the fatty liver. It's an emotive point for some outsiders (I say outsiders because I've never seen, read or heard as much as a mutter on the subject in France) so prepare yourself in advance (your excuses or your arguments) if this is a meat product you'd rather avoid. 3. There are only four possible entrées. We've established that foie gras is a likely starter  – what else might be served? Well, like in the UK, smoked salmon is a favourite, served simply with bread, butter and a wedge of fresh lemon, or in some sort of terrine with crème fraïche and herbs. Chefier types might go for scallops; one popular (modern) method is a carpaccio de St Jacques, or keep it traditional by searing them quickly in a hot pan and serving with a beurre blanc. A luxury alternative would be oysters, swallowed down whole and raw, or cooked under the grill for the more squeamish. Try serving anything other than foie gras, salmon, scallops or oysters and you'll find yourself shot from a canon from the top of  Mont St. Michel into the English Channel where you belong, you nasty prawn-cocktail eater. 4. Turduckens aren't a thing in France. Remember a couple of years back in Britain when it seemed like the whole country went mental over the idea of having a chicken inside a duck inside a turkey? It became a sort of arms race to see who could have the most…
10 Traditional Christmas Dishes That You Will Eat in France
10 Traditional Christmas Dishes That You Will Eat in France If you're spending Christmas in France, prepare for the ride of your life. Between the Christmas markets, street lights, entertainment and array of cuisines, you won't know what hit you. The foods are particularly interesting, because the French get very experimental in the kitchen come the festive season. Here are ten traditional dishes you can expect to find on just about every French family's dining table throughout the month of December. 1. Foie Gras Foie gras isn't for everyone. The concept can put squeamish people right off of their dinner if they think too long and hard about what went down pre-plating. Foie gras is the liver of a duck or a goose that has been force-fed until incredibly fat, making the organ considerably enlarged and "decadent in taste", or so I'm told. This dish is not something I've personally dabbled in, but it is a very important dish for the French. Christmas time brings foie gras to the table in abundance; the bursting livers are usually served alongside bread. 2. Boeuf Bourguignon This dish is made by a lot of French families on Christmas Eve or Day, when the whole family dines together in a grand feast. Boeuf bourguignon is a stewed beef dish that uses a lot of red wine in the making. Once the meat is properly braised, vegetables are added and slow cooked until a beautiful stew is formed. Some of the Christmas markets in France, particularly in Paris, will serve piping hot Boeuf bourguignon as a grab-and-go dish to snack on while you stroll through the stalls. 3. Caviar The French love to start their dining experiences with a hearty dollop of caviar atop a cracker or miniature buckwheat pancake. The dish is intended to line the stomach, wet the pallet, and get the evening's dining underway. While this is a popular tradition around Christmas time, it is not unusual to find local French people serving caviar year round, particularly when entertaining guests. 4. Escargots Escargots are another dish served year round in France, but during the festive season they will rarely be left off of a feast menu. These are edible land snails that are cooked and served in a saucy mix of herbs alongside bread. They are generally one of the first courses to a feast; you will rarely find escargots being served as a main meal. Another dish that isn't necessarily for everyone; getting over the universal stigmas associated with snails isn't easy. 5. Wildfowl Lobster and turkey are traditional main meals during a Christmas feast in France. Not everyone, however, has the budget to cater these dishes to a large group of people, and so the tradition has shifted to wildfowl over the years. Much cheaper than lobster, wildfowl are guinea fowl, pheasant, goose, and quail. One can roast them the way they would the turkey bird, and serve alongside all the traditional sauces and wines. 6. French Gratin Dauphinois The more traditional French families might add gratin dauphinois to their Christmas menu. This is a hearty side dish served with the main courses. Gratin dauphinois is made by slicing potatoes and layering them in garlic, cream and cheese. The dish is baked into a gooey, melted delight and pairs perfectly next to turkey, wildfowl, chicken and even seafood. 7. Soufflé The French love their soufflés, that is not secret. These can either…
What a Traditional French Christmas Eve Dinner, or Réveillon …
What a Traditional French Christmas Eve Dinner, or Réveillon, Looks Like As with all French traditions, the Christmas Eve meal is a stately and structured affair. No going out to eat at restaurants (since they'll all be closed anyway). No last-minute Chinese takeout. Days of shopping and preparation go into a meal that begins, for many, after a Christmas Eve church service. Indeed Christmas Even meal will begin at around 8pm and often stretches until after midnight. Each course is served one after the other, with breaks in between for drinks, conversation, gift giving and small entremets. In France, this meal is called Réveillon, which literally means you stay up eating all night until…it's time to wake up…at which point the kids pop out of bed and see what Père Noël has left them in their shoes placed by the fireplace. In case you want to host your own Réveillon dinner, either on December 24 or on New Year's Eve, which is also customary, here's what several French people (currently in the midst of planning their own Réveillon dinners) recommend that you serve. The Setting French people go all-out for their dinner parties, and Christmas especially. Grandmother's china and the finest silver will be on the table, napkins will be folded in a fancy way, and the tasteful floral arrangements will definitely be better than last year's. The Drinks An apéro followed by wine, followed by more wine… you get the picture. Vin chaud, or mulled wine, is not uncommon as well. And you'll probably want to go with a white for the seafood, and a red for the meat. (Yes, there will be both.) The Food Réveillon is a decadent affair, so everything that's typically saved for special occasions should be right on the docket. Huîtres, or oysters, are a classic French Christmas tradition (if you have the money to afford them), served with lemon and a shallot mignonette. In fact, seafood in general is pretty popular for the Christmas Eve meal, as it is in Italy where on Christmas Eve many celebrate the Feast of the Seven Fishes. One common snack is toasts au saumon, which is smoked salmon and crème fraîche on crostinis. Homard (lobster) and caviar are also quite popular as appetizers or worked into the main meal. For poultry you've got to have La Dinde de Noel, or the Christmas turkey, which has been a tradition in France since the 19th century. But there's also typically un chapon (capon), instead of the everyday chicken hen. Sometimes it is served stuffed with chestnuts. Though increasingly rare, game meats, like guinea fowl, have had a long tradition on the French Christmas table. For soup, there's velouté de châtaignes, a creamy chestnut soup made with winter vegetables, whose name means "velvet." Since this one might be a little foreign to a non-chef, Saveur has an incredible recipe here. And of course, the requisite foie gras, cheese course and salad course also have their places in the lineup. The Desserts It's not Réveillon without…